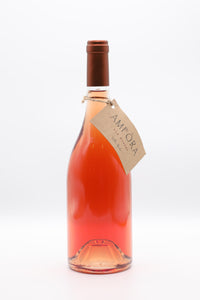 Down in the Languedoc in southern France and only a stone's throw from the Mediterranean lies Villa Noria and their organic and biodynamic vineyards. Their 'Amfora' orange wine is, as its name suggests, orange in colour due to the prolonged time the white grapes have spent in contact with their skins in the winery - three months, and after fermentation is matured for terracotta amphora. A blend of several varieties including Muscat Blanc à Petits Grains, Sauvignon Gris, Pinot Gris and Piquepoul all grown organically or biodynamically and harvested in the cool of the night to retain freshness. A natural wine that is made without the addition of sulphur, this has one of the lowest levels of sulphites that we have come across in a wine.

Lovely floral aromas with notes of quince and red apple lead onto a really fresh and bright palate with delicate apple, pear and berry fruit notes, a light refreshing tang and very light tannins with a hint of spice on the finish. Considering this is a natural wine there is no 'funk' or aggressive acidity or tannins, everything is in balance and has been well put together.
A great food wine, try with North African and Middle Eastern style cuisine such as tagine and koftas, and works well with lamb in general, also roast vegetables and meatier seafood such as octopus and salmon.

Current Vintage: 2022
ABV: 13%
Region: Languedoc, France
Closure: Cork
Volume: 75cl