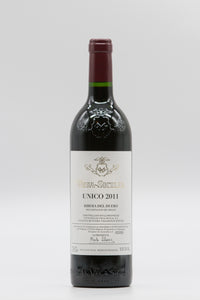 There are few wines that have the power to completely change the tasting experience - and this is one of them. The 2011 Único was made with selected grapes from Ribera del Duero's best 40 of their 210 hectares of vineyards. After the initial process, the wine was put through 10-year-long ageing between oak and bottle, using new and used French and American oak barrels and 20,000-liter oak vats.
It has a developed nose with some notes of ripe black fruit, meat and underbrush, somewhat herbal and perfumed. With super-fine tannins and a complex palate of strawberry, dark bramble fruit and herbal notes, this is a beautiful blend of Tempranillo and Cabernet Sauvignon.
Partner with sirloin steak, lamb, venison or spicy foods.
If you prefer to keep it for a special date, the Unico is set to age gracefully, with the promise of developing beautiful mature aromas of leather and tobacco.
Current Vintage: 2011
ABV: 14%
Region: Ribera Del Duero, Spain
Closure: Cork
Volume: 75cl