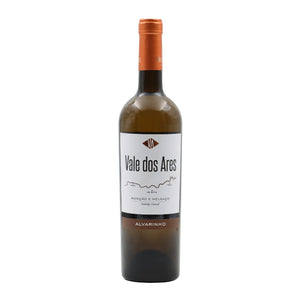 Vale dos Ares Alvarinho Colheita presents a lovely citrus colour. Intense wine with citrus, pineapple and apricot aroma. The flavour is harmonious, with good structure and balanced acidity. Elegant and persistent end of mouth.

The grapes are harvested by hand and transported straight to the winery in an average time of 3 minutes, preserving the maximum quality. They then go through a rigorous sorting, being subjected to a cold maceration followed by a gentle pressing, at low pressure. The clean wort is fermented in stainless steel tanks at low temperatures, followed by stainless steel tanks, during which the fine lees are kept in suspension, 4 months of bâtonnage. Before bottling, the wine is carefully filtered and stabilized.
Drink as an appetizer, or accompany grilled fish or salads with fresh cheese.
Current Vintage: 2022
ABV: 13%
Region: Vinho Verde, Portugal
Closure: Cork
Volume: 75cl