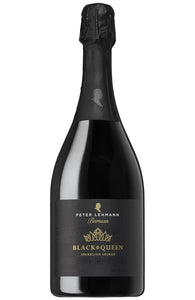 Sparkling Shiraz is a unique Australian wine style, and former Chief Winemaker Andrew Wigan was inspired to make a great sparkling wine from Barossa Shiraz in the 1980s.
Often referred to as the 'Jewel in our Crown', this Black Queen Sparkling Shiraz is a unique and indulgent wine using grapes sourced from premium vineyards in the Barossa region, used to craft this exceptional wine. Best enjoyed chilled, and matches beautifully with rock oysters or roast turkey. A true celebratory wine to enjoy with family, friends and fine food.
The 'jewel in our crown', this unique and indulgent Sparkling red wine boasts naturally low tannins and rich juicy blue fruit flavours, balanced by spice and a savoury finish.
Current Vintage: 2017
ABV: 14%
Region: Barossa Valley, Australia
Closure: Cork
Volume: 75cl